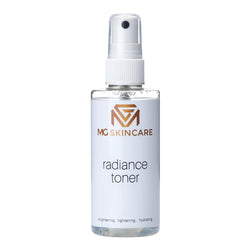 Radiance Brightening Toner
The Radiance skin toner is an Ideal product to hydrate all skin types.
This beautiful toner will condition & hydrate the skin, acting as a protective barrier, with lemon water and lactic acid. It treats acne + congestion and brightens any pigmentation or uneven skin concerns.
With hydrating and calming rose water, it keeps the skin moisturised and radiant for the rest of the day.
WHO IS IT FOR?
Perfect for all skin types, e
specially those with dull-looking skin.
WHY IS IT EXCELLENT?
Refreshes your skin
Provides a deep clean and removes impurities
Easy skincare routine when used with face cream
Fights inflammation and bacteria

Helps ease the symptoms of 

acne, as well as oily & congested skin

Prepares the skin before primers, facial creams, sunscreen or makeup. 
KEY INGREDIENTS
Aqua, Lavandula Angustifolia, Rosa Damascene, Phenoxyethanol, ethylhexylglycerin, Glycerine, Polysorbate 20, Citronellol, Geranium, Lemon E.O. Aha Fruit Acid.
HOW TO USE
Apply with a cotton ball or soft pad to cleanse, soften, refresh and moisturize skin.
Use anytime throughout the day as a softening refresher.

If your skin is sensitive - oily,

 

mix the toner with your face cream.

 

Use daily.