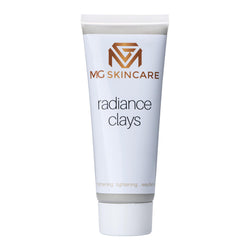 This amazing radiance clay mask/cleanser is designed with salicylic acid, to gently exfoliate your skin without stripping the skin's protective barrier.
It is perfect for all skin types and especially amazing for those with large pores, uneven and textured skin.
WHY WE LOVE IT?
Contains Kaolin clay and mint leaving the skin smooth and fresh
Rebalances oily & congested skin.

 

Treats dull,uneven and hyperpigmentation
Helps to disinfect any congestion or acne.
HOW TO USE
Use 2 to 3 times weekly for best results.

Use daily a few times per week for dry or sensitive skin.
Use this product as part of your second cleanser, after your soothing or oil cleanser. Avoiding eye area, apply an even layer to clean, dry skin, leave it on for 10-15 minutes, then rinse off with warm water.
KEY INGREDIENTS
Ingredients: water, witch hazel water, kaolin clay, black charcoal, coco glucoside, safflower, caprylic/capric triglyceride, phenoxyethanol, ethylhexylglycerin (aloe- myrrh- saffron- senna leavescamphor-rhubarb roots- manna- theriac venetian-carline thistle rootsangelica roots-zedoary roots) extracts, glycerin, xanthan gum, glyceryl stearate, cetearyl alcohol, glyceryl oleate, tocopherol, propylene glycol, polysorbate 20, cypress e.o, citral, geraniol, linalool, menthol.