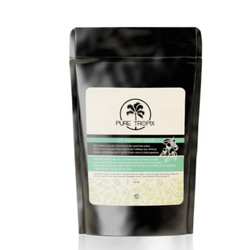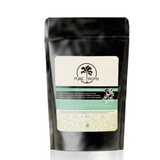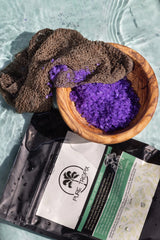 This Lime Acai Body Scrub will polish, moisturise and detoxify your skin and turn your skin into a velvety smooth state!  
Not only does this body polish rejuvenate the skin it also deposits 25+ nourishing minerals through the pores of your skin, replacing the toxins it extracts! 
It makes a fantastic addition to your self-care routine!
Who is it for?
Suitable For All Skin Types, Especially Rosacea and Acne Skins.
#1 Apply to damp skin to exfoliate by massaging with upward circular motions 1 - 3 per week concentrating on areas including hands, feet, knees and elbows.
#2 May also be used before getting into a warm bath or as a foot soak for the ultimate experience in well-being.
#3 Follow up with your favorite body oil or cream.
Softens and nourishes dull and dry skin after first use.


Made with 100% Brazilian Sea Salt (no Fillers) 

Releases ingrown hair for more effective leg shaving

Exfoliates dead skin cells

Butter is imported from Brazil (Cupuacu Butter)

Known for its unmatched moisturizing properties!

Enhances your self-care routine 
Organic Sea Salt Flakes, Organic Coconut Oil, Organic Coconut Oil Cupuaçu Butter, Açaí Oil, Guaraná extract, Lime Essential Oil.
Cupuaçu butter keeps skin moisturized as much as eight hours after application! In addition to repairing your skin's moisture barrier, Cupuaçu will improve the elasticity and firmness of your skin.
The Oleic acid found in Acai berries helps regenerate skin at the cellular levels and has antioxidant qualities that protect it from the damaging effects of pollution and UV rays. They are also attributed to helping to transport valuable, bioactive compounds to the outermost layers of the epidermis.
Our carefully formulated blend ensures that the scrub isn't too oily and will not leave a thick, icky layer on skin.