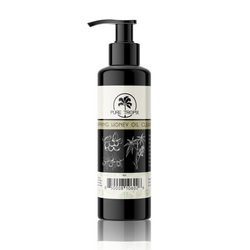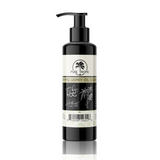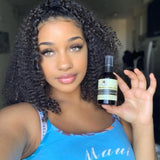 Purifying Honey Oil Cleanser
Bring out the beauty in your skin with this Purifying Honey Oil Cleanser!
It helps reduce acne and blemishes, removes dirt and grime under the pores and gently exfoliates the skin while keeping the skin moisturised and beautiful. 
Made with natural African black soap, Jamaican Black Castor Oil and Apple Cider Vinegar this cleanser is different from others and is designed to cleanse the skin without stripping it.
It's a simple one-step process from start to finish!
Use as the first step of your morning or night routine. Always wash your hands first.
#1 Shake Well
#2 Use a dime-sized amount of water daily to cleanse your face.
#3 Rinse and Follow Up with Green Ginger Toner
This cleanser has been Featured in over 10 Magazines! 
Removes dirt and excess oil without stripping out moisture

Raw honey helps to improve skin's moisture retention so this cleanser does its job, without stripping the skin!

Reduction in Active Acne and Enlarged Pores Typically Seen within the first 2 weeks.
Honey, Black Soap, Unrefined Shea Butter, Apple cider vinegar, Vegetable glycerin, Olive oil pomace, Black castor oil, Bentonite Clay, Turmeric Powder, Bromelain Powder, Papain Powder, Tea Tree Oil, Natural Fragrance Blend, Royal Jelly. 
Honey is naturally antibacterial, filled with antioxidants, extremely moisturizing and soothing, helps open pores making them easier to unclog.  
African Black Soap is a gentle cleanser that is antibacterial, safe for all skin types, moisturizing, anti-inflammatory and helps fight acne.
Black castor oil, which helps clears blemishes It also helps remove impurities from pores, and prevent inflammation and blackheads. It is an effective skin cleanser. 
Turmeric is excellent for acne because it is a natural antiseptic and helps to keep bacteria from spreading. 
 Virgin Olive Pomace helps to nourish and treat dry skin effectively.
Bromelain & Papain are enzymes that help remove dead skin cells and reduce inflammation and swelling. They contain antioxidants that nourish and rejuvenate the skin. 
Royal Jelly contains amino acids, fatty acids, minerals, enzymes, natural antibiotic properties, and antibacterial properties. Royal jelly is known for its anti-ageing.