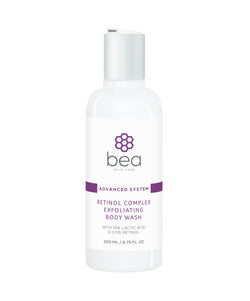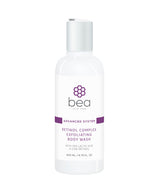 Retinol Complex Exfoliating Body Wash – 200ml
If you are concerned with the dull, ageing skin on your body, it's time to upgrade to this anti-ageing body wash. 

This Retinol Complex Exfoliating Body Wash is the first step: it prepares your skin with concentrated skincare actives. Powerful, yet gentle three-way exfoliation from Lactic and Glycolic Acid, Papaya Enzymes and ultra-fine Walnut Shell Particles polish away dead, dry skin cells which build up on the surface of the skin. Then gold-standard anti-ager Retinol can penetrate more effectively to smooth and brighten the skin.
Don't be tempted to rinse off the Retinol Complex Exfoliating Body Wash with hot water as this can strip natural oils from your skin and leave it tight. Also, don't forget your hands – they need exfoliation too and are always on show! Finish by applying body lotion to lock in moisture.
Who is it for
Normal / Mature Skin Types
Shake well before use.
Squeeze into hand or exfoliating gloves a small amount
Use in a gentle, circular motions on wet skin, work into a rich and creamy lather to remove dead skin before rinsing thoroughly.
Always use sun protection on exposed areas.
Do not use on facial areas
Note:
Due to formulation improvements, the colour, texture, scent and appearance may vary.

Use within 12 months once opened, or keep it unopened for up to two years.
Speeds up cell renewal for soft, smooth skin
Leaves the skin refreshed with a healthy glow
15% LACTIC ACID, 10% GLYCOLIC ACID, 0.5% RETINOL, GLYCERIN, SODIUM HYALURONATE, VITAMIN E, VITAMIN C, PLANT COLLAGEN PEPTIDES, GLYCINE SOJA (SOYBEAN) OIL, COCONUT OIL, BETAINE (AMINO ACIDS), PAPAYA ENZYMES, JOJOBA OIL, XANTHAN GUM, WALNUT SHELL PARTICLES, AQUA.