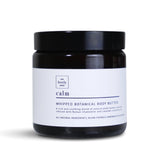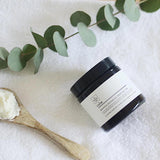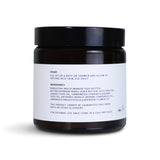 Lavender and Chamomile Body Butter
A rich and hydrating body butter perfect for all skin types, even children. It has a lovely blend of natural plant butters and oils infused with Lavender and Roman Chamomile essential oil.
The finest unrefined and cold-pressed oils all work together to moisturise, soften and nourish your skin, using nature's best.
Who is it for?
Perfect for all skin types, from Normal to Dry

People with sensitive skin can enjoy the calming effect 

Mothers and children
Why we love it?
Contains amazing ingredients with excellent properties
A great source of vitamins A, C and good fatty acids which gives the skin a revitalised and glowing look. 
It is also the perfect remedy for dry skin and eczema as is very moisturising.
Deeply penetrates providing hydration and restored elasticity.
Soothes inflammatory skin conditions such as rosacea, eczema and psoriasis.
Jojoba oil works to seal your skin with a protective barrier to keep it from losing moisture.
Grapeseed and Lavender oil have anti-inflammatory properties make it great for soothing and healing the skin and promotes relaxation 
Ingredients
Mango Butter, Lavender essential oil, Grapeseed oil, Jojoba oil 
How to use
Rub all over body after bathing or showering
Allow it to absorb into the skin
Apply twice daily or as desired.