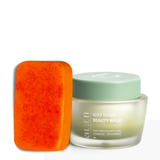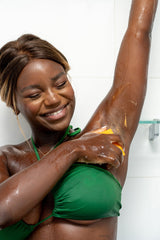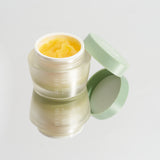 This ultra-gentle lightening soap for hyperpigmentation banishes unsightly dark marks with regular use.
The secret? It's Nola Brightening C Serum in soap form with the power of redness-reducing azelaic acid, the ideal combo for fighting hyperpigmentation and blemishes on body, chest and back. 
Pair it with the Goji Berry beauty balm to get bright and glowing skin. Gift yourself or a friend a the NEW and bestselling Goji Berry balm and Passionfruit soap. This balm will help you brighten dark marks and even out your skin tone.

Read more about each products. Save money with this set.
Run soap under warm water, lather onto an exfoliation brush and gently massage into your skin. Rinse with cool water, then apply the Brightening C Serum to entire area.
Shaving and picking blemishes take a toll on your skin. No shame in it, all skin types get discoloration and acne scars now and then
Stop the cycle with a 2-in-1 hyperpigmentation eraser that cleanses and targets dark marks for a fresh, glowy complexion in one step
The secret? Powerful redness-reducer Azelaic Acid lifts away damaged pigment, brightens skin safely and supports normal melanin production for beautifully even-toned skin
Don't second guess it, you can use it on your face, chest, underarms, legs, back, butt and bikini line.
You may see improvements early on, but it takes 8-12 weeks for full results
Saponified Oils of Cocos nucifera. Butyrospermum parkii. Olea europaea L. Elaeis guineensis. Carthamus tinctorius. Sodium Hydroxide. Aqua. Glycerin. Melaleuca Alternifolia. Sorbitol. Vegetable Propylene Glycolic (Glycerine). Sorbitan oleate. Hydrolyzed oat protein, Calcium gluconate, Vitamin-E. Potassium Azeloyl Diglycinate (Azelaic Acid). Mica, Titanium Dioxide, Iron Oxide.
4 oz
Expires in 12 months .** Vegan, cruelty-free, handcrafted