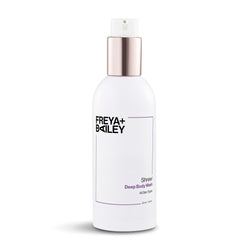 Shrew Provitamin B5 Bodywash
Fight off bad-tempered rebel skin with Shrew! Indulge in our deeply cleansing body wash free from sulphates and packed with Aloe Vera to rejuvenate the skin. A hydrating blend of oils to help nourish and moisturise skin and replenish lost vitamins to bring back the natural glow and softness. The remarkable blend of Aloe Vera, deep cleansing soap bark and Vitamins C, E, B3, B5, B6 and C combine to help to refine the appearance of damaged skin and fine lines and boost the skin's natural healing process. Feel pampered to the max, your skin deserves it with this.
No artificial fragrance was added.
Who is it for
Suitable for all skin types.
Why we love it
Gentle on skin
Blend of premium botanicals and multivitamin complex projects + nourish.
Skin PH balancing Aloe Vera cleanses skin and replenishing lost moisturiser.
Ingredients

Aqua, Aloe Barbadensis Leaf Powder (Aloe Vera Leaf Powder), Vegetable glycerine, Quillaja Saponaria (Soap Bark extract), Multivitamin complex, De-stressing essential oils blend.
Size
200ml
How to use it
Squeeze into your hands and lather over wet skin, rinsing well after use