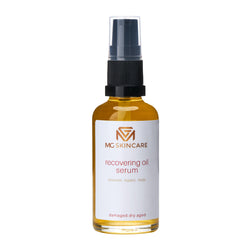 Recovering Oil - Sensitive
Our Recovering oil is a multi-purpose product for different skin conditions, such as eczema, dry, cracked and heavily congested skin. It helps to nourish and soothe. It is rich in antioxidants, natural fatty acids and anti-inflammatory properties.

This ultra relief oil is ideal for dry spots, eczema (baby safe), psoriasis, common skin inflammations, rough patches, and sensitive dry skin in need of nutrients.
Who is it for? 
Eczema, Dry, Sensitive skin types
Why we love it
It contains amazing soothing oils that work together to treat eczema and psoriasis.
helps relieve irritation, soothe itchy skin and normalise the pH levels in the skin.

high in vitamin A which moisturises and protects the skin. 

has anti-fungal, anti-inflammatory, and antibacterial properties that might make it useful to heal wounds and soothe eczema and psoriasis

provides hydration and soothes dry and irritated skin

 With rose oil + ylang-ylang extract, ideal blend for aged & dry skin. 

Algae & collagen, an ideal combination for dehydrated & damaged skin.  
Ingredients
Organic Sunflower Seed Oil, Tamanu Oil, Cucumber Seed Oil, Marine Collagen Extract, Seaweed Extract, Spirulina, Sea Kelp Extract, Rose Essential Oil, Polysorbate 20, Ylang Ylang Essential Oil.
How to use
#1 Apply a small amount of oil directly onto the affected areas of your scalp or affected area as required after a shower, then massage it.
#2 Use daily ( face + around the eyes  + neck + chest )
#3 Works best with the eczema butter