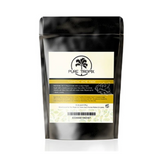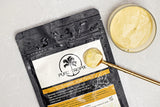 This Turmeric  exfoliant mask is perfect to naturally lifts away dead skin cells while leaving the skin pure, smooth, and hydrated.

 Unlike other products, this mask is not drying and contains white clay instead of chemicals to nourish and exfoliate the skin. 
Mix 1 tbsp of a mask with 1.5 tsp of liquid.
Apply with a brush in an even layer.
Stay yellow for 10-15 minutes and then rinse well with warm water.
Repeat up to 3 times a week.
Reduces the appearance of scars, blemishes, and hyperpigmentation

Benefits acne-prone and bumpy skin
Helps with current breakouts and scarring
Reduces inflammation and destroys bacteria.
Helps you get the glow you want
And best of all, it's 100% natural.
Kalonite (White Clay), Cocos Nucifera (Coconut) Flour*, Curcuma Longa (Turmeric) Root Powder*, Annona muricata (Soursop) seed Oil*, Tocopherol (Vitamin E), Citrus bergamia (Bergamont) Oil, Melaleuca Alternifolia (Tea Tree Oil)
White Clay works as a very mild exfoliant, gently removing dead and dry skin cells to leave you with clarified, glowing skin as well as reducing the size of your pores, which makes White Clay face masks the perfect pre-makeup masks, your foundation will just glide on!
Turmeric contains antioxidants and anti-inflammatory components. These characteristics may provide glow and lustre to the skin. Turmeric may also revive your skin by bringing out its natural glow