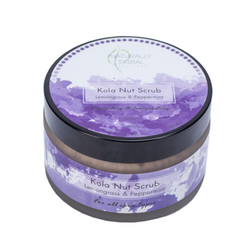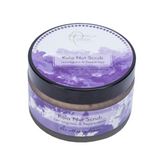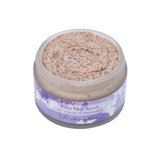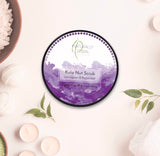 This lemongrass and peppermint scrub is perfect for a fresher skin appearance. The Shea Butter nourishes and protects the skin, while the Kola nut revitalize and help improve the skin's barrier.
The ingredients are all-natural, vegan certified and cruelty-free, and the packaging is recyclable glass.
Who is it for
On dry skin, scoop a small amount of our Kola Nut Scrub and rub it between your hands before applying to the targeted area. This allows your body temperature to melt the scrub/ polish. Apply exfoliator in circular motion and massage well on dry skin to remove dead skin. Shower off the body with warm water.
Our scrubs are made with purely natural, plant-based ingredients. To keep your scrub in perfect condition, please remove any water that might gather in the container and store in a cool, dry place.

We recommend using the scrub at least twice a week to affected areas, morning & night.
Cracked Heels/ Pedicure: Apply Scrub generously on clean dry feet focusing on the cracked heel area. For best results use it as part of your pedicure routine
Smells amazing and the texture is perfect.

Smooths textured and bumpy skin

Reveals smoother and softer skin

Reveals rejuvenated and healthy skin

Anti-inflammatory
Kola Nut, Shea Butter, Lemongrass, Peppermint and Kaolin Clay.