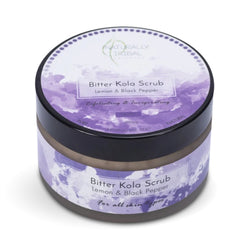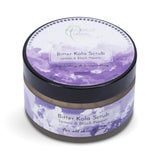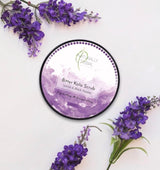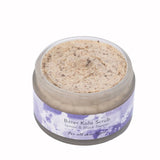 Deeply cleansing, this body scrub is powered by gently exfoliating bitter kola which clarifies the skin and removes impurities. It also contains anti-inflammatory properties. While the shea butter replenishes your skin's moisture leaving your skin feeling fresh and smooth.

The ingredients are all-natural, vegan certified and cruelty-free, and the packaging is recyclable glass.
WHO IS IT FOR 
Sensitive skin

Eczema, psoriasis or keratosis pilaris

Dry skin

Acne-prone skin
On dry skin, scoop a small amount of our Bitter Kola Scrub and rub it between your hands before applying to the targeted area. This allows your body temperature to melt the scrub/ polish.
Apply exfoliator in circular motion and massage well on dry skin to remove dead skin. Shower off the body with warm water.
Our scrubs are made with purely natural, plant-based ingredients. To keep your scrub in perfect condition, please remove any water that might gather in the container and store it in a cool, dry place.
Smells amazing and the texture is perfect.

Smooths textured and bumpy skin

Reveals smoother and softer skin

Reveals rejuvenated and healthy skin

Anti-inflammatory
This product contains raw materials made from nuts. If you have a nut allergy please conduct a small patch test before use.
Bitter Kola, Shea Butter, Black Pepper, Lemon, Basil, Tangerine, Rosemary.