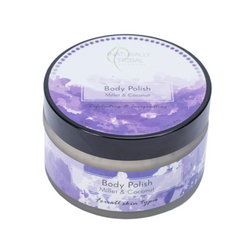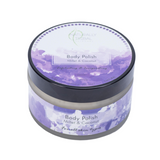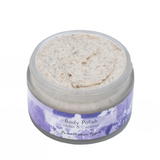 This Millet & Coconut Polish is filled with natural ingredients to leave your skin feeling smoother and soft. It has amazing ingredients to tighten and help repair damaged and dehydrated skin. The millets stimulate and exfoliate the skin, whilst coconut oil contributes to smoothing the skin.
WHO IS IT FOR
Normal to sensitive skin types
#1 Massage a small amount of our Millet Body Polish onto the skin, letting it sit for a few seconds in the palm of your hand to allow the Shea Butter to begin to melt.
#2 Apply gently to the skin, massaging in soft circular motions. Once our Millet Body Polish is applied, rinse using warm water in the shower.
#3 Complete your routine with our Body Food for maximum skin hydration.
Be sure to not over-exfoliate. If you suspect you have over-exfoliated, apply some of our Body Food to the affected area and let soothe for a few days before exfoliating again.
Fresh, dewy gel texture

Reveals brighter skin

Removes dead skin

Hydrates the skin

Exfoliates and smoothes skin
The ingredients are all-natural, vegan certified and cruelty-free, and the packaging is recyclable glass.
This product contains raw materials made from nuts. If you have a nut allergy please conduct a small patch test before use.
Millet, Shea Butter, Coconut Oil, Baobab, Bergamot, Geranium, Lemon, Kaolin Clay: