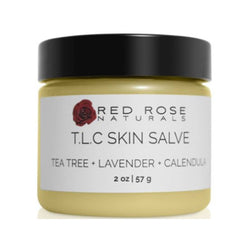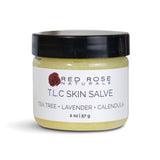 Tea tree & Lavender Soothing balm
This Natural Skin Salve is the perfect blend for your skin needs. Made with Tea Tree Oil, Lavender essential oil, and Calendula infused Oil.
Combats Eczema, blemishes, acne, rosacea, sunburn, rashes, dry skin, dermatitis, dark spots, diaper rashes, and stretch marks.
Not only is it super moisturizing, it is also nurturing to all skin including sensitive skin. T.L.C Skin Salve is a botanical and nourishing creation.
Who is it for?
Perfect for all skin types.
Dry , Normal, Sensitive and Combination skin.
Why is it excellent?
Tea Tree Oil-soothing

Lavender Oil-calming
Calendula Oil-nurturing
Key Ingredients
Organic Coconut Oil, Organic Jojoba Oil, Organic Raw Shea Butter, Organic Infused Lavender Oil , Vitamin E Oil, Organic Sunflower Oil, Organic Sweet Almond Oil, Organic Beeswax, Organic Infused Calendula Oil, Organic Tea Tree Essential Oil, Organic Lavender Essential Oil.
How to use
Apply twice daily on affected area